Gift Items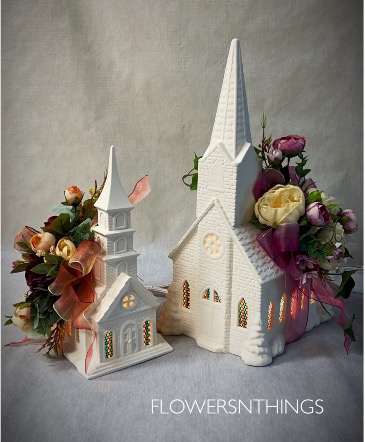 Large Ceramic Church
Keepsake Inspirational
This Ceramic Church makes a great inspirational keepsake gift for sympathy or any occasion. It can be plugged in and the windows glow like stained glass. Also has a music box that plays "Amazing Grace." This item makes a thoughtful keepsake gift. Standard: Smaller Ceramic Church (left of the picture) Premium: Large Ceramic Church (right of the picture)
LARGE CERAMIC CHURCH
KEEPSAKE INSPIRATIONAL
This Ceramic Church makes a great inspirational keepsake gift for sympathy or any occasion. It can be plugged in and the windows glow like stained glass. Also has a music box that plays "Amazing Grace." This item makes a thoughtful keepsake gift. Standard: Smaller Ceramic Church (left of the picture) Premium: Large Ceramic Church (right of the picture)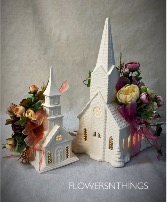 $59.98
$79.98
LARGE CERAMIC CHURCH
KEEPSAKE INSPIRATIONAL
This Ceramic Church makes a great inspirational keepsake gift for sympathy or any occasion. It can be plugged in and the windows glow like stained glass. Also has a music box that plays "Amazing Grace." This item makes a thoughtful keepsake gift. Standard: Smaller Ceramic Church (left of the picture) Premium: Large Ceramic Church (right of the picture)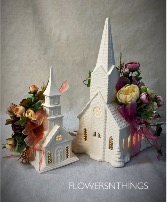 $59.98
$79.98
Flowers convey a message that cannot be put into words. FLOWERS N THINGS of Cleveland, TN provides a variety of fresh, fashionable floral designs to ensure that your gift is one of elegance and beauty.
When you're looking for a unique hostess gift, token of appreciation or just a surprise to brighten someone's day, let FLOWERS N THINGS customize and deliver one of our many fun, decorative & luxury gifts! We create dazzling presentations that are sure to please for any gift-giving occasion.
Keepsake and Inspirational gift items are always in style and are appropriate for almost any occasion, any time of year! Need a gift for a "hard-to-please" person on your list? We carry Thomas Kinkade throws, ceramic churches that light up and play amazing grace, Carson Inspirational wind chimes, Ceramic items, Inspirational prints, gardens and many more items delivered with a personalized card especially for your friend or loved one.
To get your custom gift items, call or come by and see FLOWERS N THINGS - your local Cleveland, TN florist.
PLEASE REMEMBER THAT EACH SELECTION IS CUSTOM MADE AND SUBSTITUTIONS MAY BE NECESSARY. WHEN YOU ORDER CUSTOM DESIGNS THEY WILL BE PRODUCED AS CLOSELY AS POSSIBLE TO THE PICTURE.